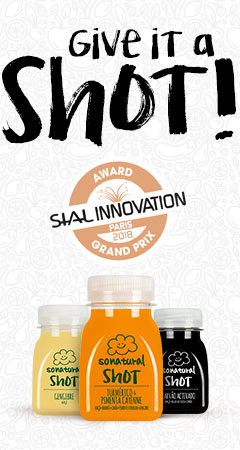 SONATURAL LAUNCHES GINGER UP AND WINS PRIZE
Sonatural has just launched a new line for ginger lovers: Ginger Up. It is really delicious and won the "Best New Fruit Product" at Chicago United Fresh 2017.
Available in 3 flavors: Apple & Ginger, Pineapple & Ginger, Basil & Ginger.
Lettuce Wrap
Our new novelty in healthy snacks: Wrap with lettuce!
GL presents the new Wrap Lettuce in Madrid.
Next week GL is presenting in Madrid's "Fruit Attraction", the Trade Show for the fruit and vegetable Industry in Europe, the big innovation on healthy snacks: Wrap with lettuce.
Great sial innovation 2018 award
It's with great pride that we announce that we received the GREAT SIAL INNOVATION 2018 AWARD, in the Non Alcoholic Beverages category, with our GIVE IT A SHOT juices! It will be made official this weekend in Paris at Sial Paris where we'll be present. The smaller Sonatural juices are creating a big impact!
Sonatural attends the United Fresh 2018 fair in Chicago
In the last week of June Sonatural was in Chicago for the United Fresh 2018 fair. It was the ideal opportunity to introduce some of the new products: the Sonatural Fruit Pot and the Sonatural Soup vegetable soups.